Thanet beach sewage spill response criticised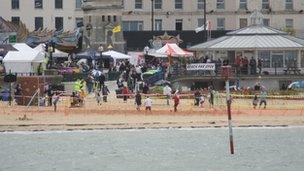 Thanet council, Southern Water and the Environment Agency have been criticised in a report into a sewage spill that shut Kent beaches in the summer.
More than 20 beaches were closed in June after raw sewage entered the sea when the Southern Water Foreness Point Sewage Pumping Station failed.
The inquiry, set up by Thanet council, looked at how the incident was managed.
Its report criticised communication between the three organisations and a lack of contingency planning.
The report by the council's scrutiny and overview panel also highlighted the fact that the sewage spills were reported by a member of the public and not any person in an official capacity.
It also said there was confusion over who was responsible for warning the public about the spill and the signs that were eventually put up were too small.
The beaches had to be closed over the Jubilee bank holiday weekend from 4 until 12 June following the spill on 30 May.
Thanet councillors will discuss the report on 20 December.
The Environment Agency said an internal investigation had been started to find out what went wrong.
A spokesman added: "We take it extremely seriously. We recognised the importance of bathing water quality to the local communities around Thanet and beach users.
"To avoid a similar circumstance we're working hard with Thanet District Council, with Southern Water and the beach users to make sure that we're prepared and can respond in the event that something like this happens in the future."
A Southern Water spokesman said: "We have worked closely with Thanet District Council during the course of their investigation.
"However, this is the first we've seen of the report and the recommendations and we will need time to absorb them before we meet the committee to discuss them."
Related Internet Links
The BBC is not responsible for the content of external sites.