Ramsgate demo as MPs about to debate live exports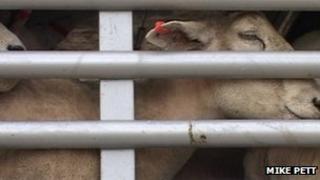 Protests have been held at Ramsgate against a shipment of animals leaving the port - a day before MPs debate the issue in the Commons.
About 25 campaigners staged a demonstration as a ferry set off from the east Kent port on Wednesday.
Environment minister David Heath has announced increased welfare after an incident at the port in September in which 47 sheep died.
South Thanet MP Laura Sandys will lead the debate on the issue on Thursday.
She will also present a petition to the Speaker from Thanet residents who oppose the trade.
Enforcement 'not effective'
Conservative MP Ms Sandys said the petition and debate was the culmination of pressure she had been putting on the government to place much greater restrictions on the live animal trade from the port.
She said she was "fed up" with a trade that had led to the slaughter of dozens of sheep on the portside at Ramsgate.
"My aim through this debate is to highlight where I believe animal welfare standards are not being enforced effectively enough," she added.
Strengthened welfare controls announced by Mr Heath included increased inspections of animals being exported, and a zero-tolerance policy to be taken by animal inspectors if they find unnecessary suffering.
Temporary ban
Mr Heath also said there would be improved procedures to ensure a vet was always within an hour of the port to assist inspectors.
He said the Animal Health and Veterinary Laboratories Agency would implement its own contingency plans in an emergency if the transporter was unwilling to or unable to implement their own plans.
Forty four sheep were put down at Ramsgate in September when a lorry was stopped at the port and the animals were found to be sick and lame.
In a separate accident, a loading area floor collapsed and three more died.
Thanet council temporarily banned live exports from the port but this was later overturned by the High Court.
On Wednesday, the RSPCA said a High Court judge had indicated he would consider a fresh judicial review from the animal welfare charity about live exports from Ramsgate.
In a statement, the charity said Mr Justice Mailes had indicated he would consider a fresh judicial review application in the new year.