Saga Folkestone party death leads to arrests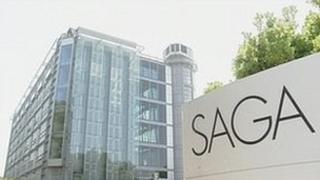 A Saga employee who was refused entry to the company's Christmas party and then restrained by door staff has died.
Police were called to the event at Leas Cliff Hall in Folkestone, just before 21:50 GMT on Thursday, after reports of an assault. Three men were arrested.
Paul Green, director of the over-50s travel firm, said; "There was a tragic incident involving a member of staff outside the Leas Cliff Hall last night.
"We are greatly saddened by the loss of a valued colleague."
He added: "Our sincere condolences and prayers are with his family."
The man, who was married, was pronounced dead in hospital.
Saga, which specialises in products and services for the over-50s, has its headquarters in Folkestone.