Rochester Airport plan to create jobs given approval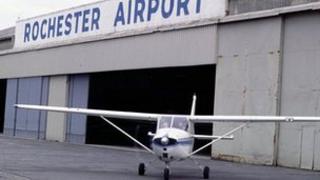 A plan to improve a grass airfield which will create up to 1,000 jobs has been approved by a Kent council.
Medway Council has backed plans to close two grass runways and replace them with a two new runways, one grass and one paved.
Many of the buildings at the airport date back to the 1930s with temporary huts being used, the council said.
Plans to go out to tender for a new 25-year-lease for an operator to run the airport were also approved.
Part of the existing runway will become available as a development for a hi-tech business park with the creation of up to 1,000 skilled jobs.
A council spokesman said: "The paved runway will allow modern small aircraft to take off and climb to a higher altitude very quickly, meaning that less residents will be affected by noise."
The grass runway will continue to be used by Medway Aircraft Preservation Society heritage aircraft and for open days.