Charity work helped Kent father Peter Barrell face loss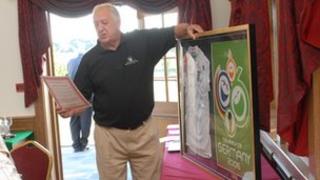 A retired police officer who threw himself into fundraising work after his son was murdered has been recognised in the New Year Honours list.
Peter Barrell, of Sandwich, Kent, set up the Chris Barrell Memorial Trust after the death of his son in 1991.
He is also chairman of the east London-based charity SupportLine.
Mr Barrell, who has been awarded a British Empire Medal (BEM), has raised nearly £400,000 since he began fundraising.
He was a serving Metropolitan police superintendent when he lost his youngest son, Chris, who was killed at the age of 21.
Chris had recently left the army where he had served in the Coldstream Guards, and was attacked while walking his dog in a park in Chadwell Heath, London.
'Heads held high'
Mr Barrell, 73, said his fundraising work had helped him to cope over the years "to a very large degree".
He said: "When something like that happens, it's very, very hard. It's fair to say that I found it difficult for two or three years to function properly."
He added: "As a family, my wife and I said 'we are going to face the world with our heads held high'."
Mr Barrell said he was "pleased and delighted" at receiving the honour, but wished his wife, Carol, who died 17 months ago, could have enjoyed it too.
"I would say she was as deserving of the honour as I am," he said.
The citation for his honour described how Mr Barrell's warmth and dedication to others had helped keep his son's memory alive and also benefited the whole community.
It said: "His enthusiasm, motivation and hands-on support have ensured that each and every charity event he has organised have been successful and enjoyed by everyone."
Geri Burnikell, co-ordinator of SupportLine which nominated Mr Barrell for the award, said his work had been "invaluable".
Marathon runner
Across Kent, artist Tracey Emin was appointed CBE in the New Year Honours list for services to the arts.
P&O Ferries chief executive Helen Deeble, who is also president of the UK Chamber of Shipping, was also appointed CBE for services to the shipping industry.
And school caretaker and grandfather Jack Denness, 77, from Rochester, has been recognised with an MBE after raising more than £100,000 for children's charities by completing 12 135-mile ultra-marathons in the Nevada desert.
Known as "Death Valley Jack", he said: "I was shocked they would give this to me. I'm just an ordinary fella from a humble background."
His last endurance race was in 2010 at the age of 75.
Mr Denness has given up running but is still taking part in charity walks.