PPC Ann Barnes in rape victim centre pledge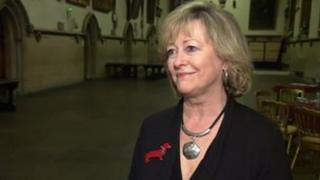 Kent's police and crime commissioner (PCC) Ann Barnes has vowed to make providing a 24-7 unit for rape victims a top priority in the new year.
Kent is the only county in the South East that does not have a round-the-clock Sexual Assault Referral Centre.
Ms Barnes and the other PCC candidates discussed the issue during a BBC Radio Kent debate before for the election.
"It is important to me and I know it's important to lots of people here in the county," she said.
'Knock heads together'
Ms Barnes added: "It's very high on my agenda. I will be meeting early in the new year with partners [to try] to persuade them and coerce them into pooling resources."
"We are not served at all well. It's a worry for me and it is important to me.
"I do know the Darent Valley centre is not open 24-7 and there is nothing in the east and south of the county."
"It is partnership working and each partner frankly has to dip into their pockets."
Sexual Assault Referral Centres are usually run in partnership and funded by the NHS, police and the voluntary sector.
Malcolm Gilbert, from Gravesend-based Family Matters, said support for victims of rape and sexual abuse varied across Kent at the moment.
But he said he was hopeful Ms Barnes could "knock heads together" in order to get the police and NHS to work together to provide better facilities for rape and sexual assault victims.