Claire Tiltman murder: Hope for clues 20 years on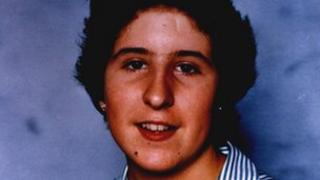 School friends of a 16-year-old girl who was stabbed to death in north Kent 20 years ago have organised a candlelit walk and service to remember her.
Organisers are hoping the memorial will remind everyone Claire Tiltman's murderer has not been found.
Emma Edwards said it was hoped someone could still provide information leading to the killer, in what Kent Police have said is still an active investigation.
The candlelit walk in Greenhithe on 18 January will retrace her final steps.
Organisers said they hoped as many people as possible would join the walk, which is open to the public.
Mrs Edwards said friends of the Dartford Grammar School for Girls pupil were determined she must not be forgotten.
She said: "When we get together and we talk about Claire, there are so many good memories, so that's one of the nice things, to get together, to share those good memories and talk about her.
"But I think even though it's 20 years, as her parents would have said, 20 years doesn't take the pain away."
Father's appeal
Claire's father, Cliff Tiltman, died in September and her mother Lin died at the age of 56 in 2008.
Last January, Mr Tiltman made a fresh appeal from his nursing home for information, prompting fresh calls from the public to police.
During the appeal he said it would "mean everything" to him to find out who murdered his daughter.
On 18 January 1993, Claire was on her way to visit a friend when she was stabbed more than 40 times in an alleyway just off the A226 London Road, in an apparently motiveless attack.
The friend she was visiting, Vicki Atkins, said: "It just devastated everybody's lives and I can't believe that 20 years on, there is still no justice."
She said the planned memorial had come as a "lovely idea", but added: "I just hope that it will bring that one piece of information to solve the mystery."
Det Supt Rob Vinson said: "It is two decades since Claire Tiltman was murdered and I'm still convinced that there is someone who can provide that vital piece of the jigsaw and I urge them to contact us.
"Last year, Claire's father passed away without ever seeing justice for his daughter, but we remain committed to identifying her killer and bringing him to justice."