'Full capacity' Darent Valley Hospital closes temporarily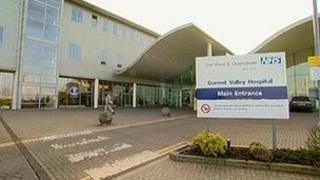 A hospital had to turn patients away for several hours as part of a "short closure" after it reached full capacity, NHS chiefs have said.
Darent Valley Hospital in Dartford, Kent, closed to new admissions for six-and-a-half hours.
Ambulance crews were instructed to take emergency patients to other hospitals.
NHS chiefs said the hospital remained open to children and people visiting A&E on foot and anyone in immediate need of emergency help would be seen.
'Busiest time'
NHS chiefs from Dartford, Gravesham and Swanley Clinical Commissioning Group (CCG) and Dartford and Gravesham NHS issued a joint statement.
In the statement, Dr David Woodhead, the CCG's clinical accountable officer, said: "This is the busiest time of year for the NHS and earlier today, Darent Valley Hospital reached its full capacity.
"The hospital therefore had to close for a short time until beds became available."
He added: "Throughout the short closure, which lasted from 5.00am until 11.30am, we liaised closely with all our partners at other hospitals in the region, the ambulance service and GP surgeries to manage the current demand effectively."
A spokesman for Dartford and Gravesham NHS said ambulance crews decided which was the most appropriate hospital to use instead of Darent Valley.
Hospitals closest to Darent Valley are Medway Maritime Hospital in Gillingham, Maidstone Hospital, and Tunbridge Wells Hospital.
Two ambulance trusts serve the hospital, London Ambulance Service and South East Coast Ambulance Service.
'Patient concerns'
He said the cause of Thursday's closure was "just the number of people coming into the hospital which was more than the number of beds available".
The Patients Association, which campaigns for patients, said people would be concerned to hear their hospital had closed, however short the period of time.
Chief executive Katherine Murphy said: "Whilst hospitals often face increases in demand in the winter months, patients deserve to have the confidence to know that this can be managed and access to, and quality of, care will not be affected.
"When services are closed, or limited, trusts need to explain why and ensure patients are signposted to alternative provision in the community."
She said more resources were needed in the community so anyone who could be treated out of hospital would be.
A spokeswoman for the Department of Health said: "When there is a temporary closure of a unit in a hospital it must be a last resort and we would expect patient safety to not be compromised in any way."