Two prisoners escape from HMP Standford in Kent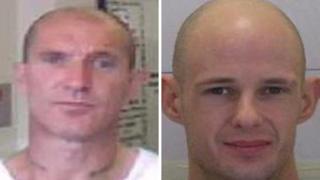 Two men who escaped from an open prison in Kent are being sought by police.
Anthony Hogan, 50, from south London, and Nicky Gale, 29, from Dartford, were detained at HMP Standford Hill, in Eastchurch, Sheppey.
They both escaped on Wednesday and police do not know whether they left together.
The prison is used for men who are at the end of their sentence. Members of the public have been advised not to approach either man, but dial 999.
Hogan is described as 5ft 7ins, of medium build and is balding with grey hair.
Gale is 5ft 9ins tall, of slim build and bald. He also has a scar on his left temple and a scar on his left hand.