Rochester station relocation goes before council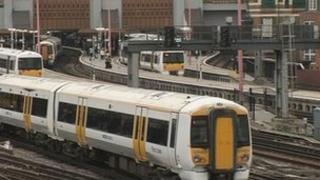 A £26m plan to move Rochester railway station closer to the town centre and the Riverside development is to be considered by Medway Council.
The new station, on part of Corporation Street car park, was announced by Network Rail last week as part of a £37.5bn UK-wide investment package.
Medway said it would mean losing 103 car park spaces, which will be replaced by a new car park of 134 spaces nearby.
The proposal is to go before the council's cabinet on Tuesday.
The new station, expected to open in 2015, will have longer platforms to allow 12 carriages to stop at Rochester instead of 10.
'Quicker service'
It is in response to an expected 30% increase in passenger numbers as Rochester's regeneration continues over the coming years.
"If this proposal gets the go ahead it will lead to a new, better train station for Rochester which will result in a quicker, more reliable service with more space for passengers," said council leader Rodney Chambers.
"Rochester - like the rest of Medway - is benefitting from regeneration and more and more people are viewing it as a place to buy a family home and commute from.
"The number of rail passengers is forecast to grow significantly."
A formal planning application will have to be approved by the council before building can go ahead.