Tunbridge Wells council 'indecisive' over cinema site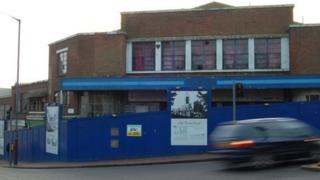 The "number one grot spot" in a Kent town has been blamed on the council's "lack of ambition and vision".
The former ABC cinema in the centre of Tunbridge Wells has been derelict for nearly 13 years pending a number of demolition and redevelopment plans.
Opposition Liberal Democrats on the borough council said: "There is no reason for the site looking the way it does except for an indecisive council".
The council said it wanted to ensure the owners met their obligations.
"We will not stop until the owners come up with a solution to demolish the site and present a planning application for a suitable replacement," said council leader David Jukes.
Broken windows
In a survey of local residents conducted by the Liberal Democrats, 92% said they thought the Conservative-led council should already have put a Compulsory Purchase Order (CPO) on the site to get a redevelopment under way.
Councillor Ben Chapelard said: "This is the biggest opinion poll on the town's number one grot spot and residents are clear.
"The root cause of the current situation is the council's lack of ambition and vision for this key strategic site."
Dianne Hill, leader of the Labour group, said: "If we were to let our houses deteriorate like this, the council would soon be knocking on our doors."
In a statement, the council leader said a CPO on the site would be extremely costly.
"The cost to our tax payers would be in the region of £10m - £15m before the future re-use of the site is taken into consideration which will be in the region of £40m - £50m.
"This could see a council tax increase of over £1,000 per household across the borough, per annum," Mr Jukes said.