Kent drivers and pedestrians warned over icy conditions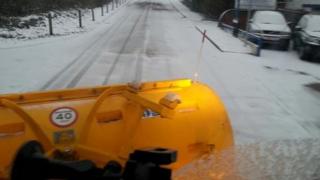 Kent drivers and pedestrians were warned of the dangers of ice on Tuesday after temperatures dropped overnight.
Southeastern trains said some early morning services were disrupted because of the weather, and Eurostar reported some delays.
On Monday, 245 schools were closed, but fewer than 10 have reported closure on Tuesday.
Kent County Council said head teachers had to be ensure pupils' safety.
Safety of pupils
Mike Whiting, cabinet member for education, said school closures were "an individual decision" for head teachers.
"They understand their schools, they know where their children are coming from, they know where their staff are coming from, and you have to respect the head teachers' decision in those cases," he said.
"Underlying all that is the health and safety of the young people."
Southeastern said that more delays would be inevitable on Tuesday but was planning to run a "normal timetable".
On their website, the company said: "Icy conditions forecast for the early hours of the morning will inevitably cause some delays to our services."
Buses are replacing trains between Dover Priory and Faversham all day on Tuesday.
Southern Rail said it ran an amended timetable on Monday and the same would apply on Tuesday.