Two Kent grammar schools to take extra Year 7 pupils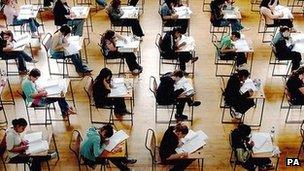 Sixty extra grammar school places for boys are to be created in west Kent at the start of the next academic year.
Following a request from Kent County Council, The Judd School, in Tonbridge, and The Skinners' School, in Tunbridge Wells, will add an extra Year 7 class.
Both schools admit boys on the basis of their 11+ exam score, rather than on how far they live from the school.
The council said its request for places was not "dramatic or exceptional".
"Parents of boys in west Kent will not be surprised that we are looking for more places," a statement said.
The additional places at both schools are only for one year, beginning in September.
Robert Masters, head teacher at The Judd School, said it would make an extra 30 places available after the governing body "carefully considered KCC's urgent request and the school's limited resources".
"It balanced the arguments and concluded that a good education could still be assured for all students."
Major General John Moore-Bick, head teacher of The Skinners' School, said it would ensure there was sufficient classroom space for the extra pupils after governors had concluded "that the greatly prized standards of the school could be upheld".
Grammar schools in west Kent have been under pressure because of an increase in the number of children passing the 11+.
Two annexes to existing grammar schools in Kent will be set up on KCC land at the old Wildernesse School site in Sevenoaks.
Related Internet Links
The BBC is not responsible for the content of external sites.