Musicians mark Canterbury pond deaths anniversary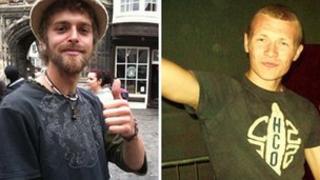 People have gathered in Canterbury to pay tribute to a man and a boy who drowned at a pond in the city.
The bodies of 17-year-old Hugo Wenn and Daniel Lloyd, 25, were pulled from Reed Pond, on 30 January 2012.
Tests showed both had the legal high methoxetamine (MXE) and alcohol in their bodies when they died.
About a dozen local musicians performed songs in the city's High Street to celebrate the lives of the two local buskers.
'Real positive'
Friends of the pair have also released a tribute CD with proceeds from the sale going to Mr Lloyd's nine-year-old daughter.
They also want a memorial plaque put up near the spot where Mr Lloyd performed.
Mr Lloyd's mother, Lisa, said: "I can't tell you how much it really is just a comfort and it's just lovely to know.
"As a grieving mum, one of the most important things is that he's remembered. It's a real positive out of a tragedy."
Police discovered Hugo's body floating in Reed Pond, which is on land owned by the Ministry of Defence, while they carried out a missing person search for him.
Divers searching the pond found the body of Mr Lloyd several hours later.
Post-mortem examinations revealed they died from drowning.
Hundreds of people attended funeral services for the two men last February.