Nathan Rawling jailed for 'murderous' baby attack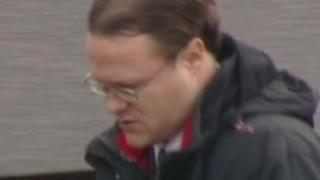 A man who caused a one-month-old boy life-threatening injuries including two punctured lungs and 26 rib fractures has been jailed for 10 years.
Nathan Rawling, from Gravesend, Kent, was accused of attacking the baby after it urinated on him.
The child's injuries also included a broken arm and a broken collar bone.
Rawling told Maidstone Crown Court the child's mother carried out the attack, but he was convicted of causing grievous bodily harm with intent.
The court was told the child suffered a cardiac arrest at hospital after the "frenzied, brutal and persistent assault", but had since fully recovered.
Rawling, formerly of St Gregory's Crescent, denied the prosecution's claim that he had acted in a "murderous rage".
He told police officers the baby stopped breathing and the injuries were caused by his attempts to resuscitate him.
Kent Police arrested him after the baby was rushed to Darent Valley Hospital in respiratory arrest on 1 December 2011.
The baby was then transferred to Kings College Hospital in south London, where he spent more than a month in a serious condition.
Crown Prosecution Service spokesman Simon Ringrose said the baby only survived because of the expert intervention of medical staff at Darent Valley.
Det Chief Insp Andrew Pritchard said: "In my service I have not seen such extensive injuries on such a young child.
"It was a case that shocked the public and caused considerable community tension in Gravesend.
"Rawling is a bully who took out his anger in the most cowardly way possible when he assaulted this baby."
Mr Pritchard thanked people in Gravesend, who held vigils for the baby after the attack.