Samuel Plimsoll: Commemoration for the 'sailor's friend'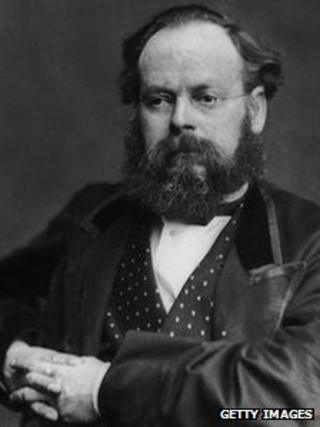 The life of a politician credited with protecting the lives of thousands of sailors has been commemorated at the church where he is buried in Kent.
Samuel Plimsoll was born in Bristol on 10 February 1824, but died in the town of Folkestone 74 years later.
He is best remembered for creating the Plimsoll Line, which appears on the hull of seafaring ships to show safe loading limits, preventing accidents.
Civic leaders attended a service at St Martin's Church, in Cheriton.
It was the first time a commemoration had been held for him at the church beside his grave, and campaigners hope it will be the beginning of a move to recognise him properly in Folkestone, where he spent the last seven years of his life.
'Sailor's friend'
Nicolette Jones, a journalist and broadcaster who has written a book about the Victorian philanthropist and his campaign on behalf of sailors, is behind the move, along with local historian and publisher, Nicholas Reed.
The politician, known as the "sailor's friend", was so revered that for many years Plimsoll Day on 10 February was celebrated in various parts of the UK while 15 towns have streets named after him.
He came to national prominence after he was elected to Parliament in 1868 as the Liberal MP for Derby, and proposed a compulsory load line to prevent shipping accidents.
He highlighted the fact that nearly 1,000 merchant seamen were drowned each year on ships around the British coast and cited the greed of ship owners who insisted on loading their vessels with too much cargo.
In 1876 the Board of Trade recorded that 856 British merchant ships were lost in conditions "that were no worse than a strong breeze".
'National hero'
"He was the whistleblower who took on the fat cats," Ms Jones said.
After a tireless campaign, a government bill was introduced in 1875, but Prime Minister Benjamin Disraeli later announced it would be dropped.
Disraeli was eventually forced to back down and the Merchant Shipping Act was introduced a year later, introducing a mark onto the hull of all ships to ensure they were not overloaded.
The Plimsoll Line symbol later became the inspiration for the London Underground sign.
Ms Jones said Plimsoll was "a huge national hero in his lifetime" who should be "given back his rightful place in history".
When he died, sailors carried his coffin from his home in Folkestone to the churchyard in nearby Cheriton as ships in the harbour flew flags at half-mast.
For a long time, his grave was "neglected and lost", Ms Jones said, but it is now maintained by an anonymous benefactor who pays for the upkeep.
There are memorial statues of Plimsoll on Victoria Embankment in London and in Bristol, while a plaque marks one of the houses where he lived in Folkestone, in Augusta Gardens.
Mr Reed said he hoped Saturday's commemoration would herald an annual event and a permanent memorial in the town.
"I have discussed it with the council... there ought to be a memorial to him down at the seaside," he said.
A spokesman for Shepway District Council said Plimsoll been been nominated for a plaque on the bandstand, which would be considered by the council later in the year.