Urban Gravesham claims Gravesend Heritage Quarter 'blights lives'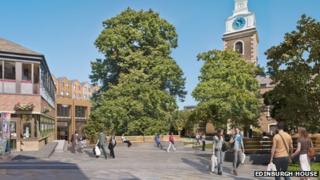 A campaign group opposed to the proposed £120m revamp of a town centre in Kent claims the scheme will blight the lives of people living there.
Gravesend Heritage Quarter would see the creation of 330 flats, a hotel, restaurants and a shopping complex.
Jonathan Clay, of Urban Gravesham, said developer Edinburgh House needed to re-evaluate what was needed.
Edinburgh House said the plans would encourage investment "ensuring the long term economic prosperity of Gravesend".
The firm's spokesman said more than 250 temporary jobs would be created during the construction phase, in addition to 650 permanent jobs.
Gravesham Borough Council threw out the original scheme in 2010, arguing it was too large and not sympathetic to the existing architecture.
It had included 400 flats, a hotel, restaurant and leisure facilities, shops and offices, as well as a new town square and parking for 1,000 cars.
'Compounds problems'
Edinburgh House said it had changed the development after "listening carefully", and that the revised designs had attracted "huge support" among people who attended the public exhibition.
Urban Gravesham led the opposition campaign against the plans in 2010.
Mr Clay said: "Gravesend could benefit considerably from having genuine regeneration, but that needs to be high quality, it needs to be attractive, it needs to bring in new people to Gravesend that don't come here at the moment.
"This scheme wouldn't do that, it simply compounds its existing problems."
Andrew Thomas-Knowles, manager of St Georges' Shopping Centre, said the town centre would "probably decline even further" if the plans were rejected.
He said: "We'll lose more retailers within the town, you'll have people going further away shopping.
"We need to draw people back into Gravesend.
"There's an opportunity to develop the town and give it a big lift and I think that's what the Edinburgh House proposal will do."
The council is expected to make a decision on the application by the end of March.