Huntsman Brian Fraser cleared: Benenden was rocked by shooting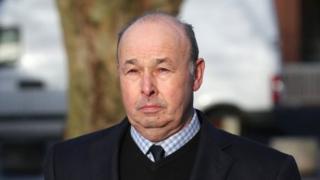 It is better known for boasting the prestigious Benenden School, whose alumni includes actress Rachel Weisz, Princess Anne and charity campaigner Sue Ryder.
But, the parish of Benenden in the Weald of Kent became noted for entirely different reasons last March, when showjumper Louise Leggatt was shot as she tended to her horses, shattering the peace.
Brian Fraser, Mrs Leggatt's former lover, has been cleared by a jury at Maidstone Crown Court of attempting to murder her at Apple Pie Farm.
Mr Fraser, 63 and a former joint master of the Ashford Valley Hunt, was also cleared of grievous bodily harm with intent against Ms Leggatt, a veterinary surgery worker.
Pelvis injuries
She was shot just two months after her home by was targeted by arsonists, forcing her to rent accommodation on the farm, which is next door.
Mr Fraser, of Criol Lane in Shadoxhurst, Ashford, was not charged in connection with the arson, but did admit one count of possessing a firearm without a licence.
Jurors had been told he had fallen out with Ms Leggatt, a mother-of-two, when she rejected his efforts to rekindle their romance.
Mrs Leggatt was left with bowel and pelvis injuries in the shooting, which she suffered while on routine evening checks on her horses.
She managed to stumble back inside the house and dial 999.
"I was absolutely terrified," she said. "I had never been so terrified in all my life.
"I was really, really scared that whoever had done it was going to come back in and I couldn't get back to lock the door."
She was later taken to Pembury Hospital in Tunbridge Wells for surgery.
Mrs Leggatt told the trial that her wounds had healed, but she had scarring and nerve damage, and shotgun pellets remained in her leg .
Interview 'panic'
She met Mr Fraser in the early 2000s and moved in with him after she finalised a divorce in 2007.
However, the relationship deteriorated and he moved out in November 2011.
When arrested, the jury heard Mr Fraser told officers he was at home with his wife on the evening of the shooting, and that he did not own a shotgun.
He later admitted he did own a shotgun, after one was found hidden between two hay bales on his land with his DNA on the barrel locking lever.
During initial interviews with police, Mr Fraser said he "panicked" because he had been arrested on suspicion of a serious offence and because he did not have a firearms licence.
He "categorically" denied shooting Mrs Leggatt, who he said he had split from amicably and still considered a friend.