Bogus Medway nurse Denise Stewart gets suspended sentence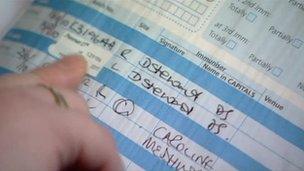 A bogus nurse who carried out vaccinations and cervical smears on more than 1,400 patients has been given a 20-month suspended sentence.
Denise Stewart, 48, who worked at four Medway GP surgeries from August 2006 to September 2010, admitted eight charges of deception, fraud and forgery.
Stewart, who now lives in Brecon, Powys, was a former healthcare assistant but not a registered nurse.
The judge at Maidstone Crown Court suspended her sentence for two years.
Kent and Medway NHS offered retests to more than 300 women who had smear tests and additional treatment to more than 1,000 patients who had vaccinations done by Stewart.
Suspicious identification card
The trust said at the time it had not found any problems with her work at surgeries in Chatham and Gillingham and there was no reason to believe there had been any harm to anyone's health.
During the trial the court heard that while Stewart was living in Darlington, County Durham, she and her husband had moved into a property owned by a nurse called Amaya Lloyd-Johnson, who had moved to Canada.
Stewart "intercepted" her correspondence and was able to get a registered nurse's identification card, which she modified to fit her own name.
In 2010, while Stewart was working in Brecon, mid-Wales, her employer became suspicious of her card.
Inquiries were made with the Nursing and Midwifery Council (NMC) about her credentials who said the cardholder lived in Australia, where Ms Lloyd-Johnson went on to move to, in 2009.
The NMC took no further action, the court heard however, and it was only after Ms Lloyd-Johnson contacted Kent Police in 2011 that Stewart was arrested.
Stewart also worked as a qualified nurse in Saffron Walden in Essex before moving to Gillingham and Chatham, earning a total of £73,910, the court was told.
In a statement after the trial, the Nursing and Midwifery Council said: "Fraudulent registrations put patients and the public at risk.
"Employers should verify the registration, identity and competence of the nurses and midwives they intend to employ before allowing them to begin work.
"Since Ms Stewart first fraudulently registered with us, we have strengthened the relevant registration processes and policies."
Last month, Stewart pleaded guilty to one count of theft, one of possession of articles for use in frauds, two of obtaining pecuniary advantage by deception, three of fraud and one of using a false instrument with intent.
Related Internet Links
The BBC is not responsible for the content of external sites.