Kent Police warning over 'Rockstar' pills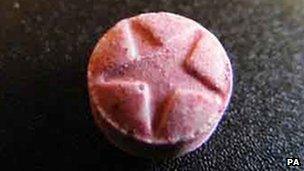 A warning has been issued by police after three people were treated in hospital after taking a drug they bought in Kent.
They suffered symptoms including breathing problems and vomiting after taking a red pill known as "Rockstar".
The three were taken for treatment after they went to a bus which provides medical aid in Maidstone on Saturday night.
They have since been discharged from hospital.
A fourth person is reported to have taken the pill in Medway on Saturday night, Kent Police said.
The drug is believed to be sold as a form of ecstasy and comes as a bright red pill in either a circular or star shape.
Maidstone District Commander Ch Insp Jon Bumpus said: "Taking any drug is dangerous and presents health risks, but these pills in particular appear to be unpredictable and could potentially have very serious consequences.
"We are carrying out a number of inquiries to glean more information about this substance and I would appeal to anyone with any information about people who are selling this drug to contact us."
Similar pills were branded potentially deadly by Strathclyde Police earlier this week after seven people were hospitalised in the Glasgow area last weekend.
"The exact contents of the pills are unknown, but they could, from past experience, contain a cocktail of different substances," a spokesman from the Scottish force said.
Related Internet Links
The BBC is not responsible for the content of external sites.