Kent condom app helps teenage pregnancy rates fall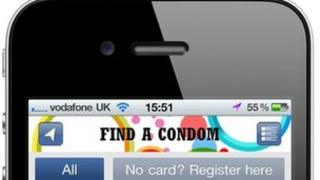 A smartphone app showing the nearest place to get free condoms may have helped reduce teenage pregnancy rates in Kent, public health experts say.
Teenage pregnancy rates in the county fell by 12% in 2011, according to a report by the Kent and Medway Public Health Observatory.
There was a 33% drop in Shepway and a 21% fall in Maidstone over that period.
In 2006, Parkwood in Maidstone had one of the highest rates of teenage pregnancy in western Europe.
Teenage pregnancy rates across England have fallen by more than 27% in the last 10 years.
In Kent, the rate has dropped by 26% over the past 13 years.
The fall is also attributed to long-term contraceptives, dedicated outreach nurses, and healthcare staff working with partners in the community.
Strood GP Julian Spinks said the drop should be welcomed.
"Teenage pregnancy has a negative impact, both on the teenagers themselves, their children and those around them," he said.
"The teams that have been working on this have to be congratulated for managing to achieve something that in the past has been very difficult to do."
The app directs anybody with a Kent C Card - a contraception scheme set up in 2007 which allows holders to receive free condoms - to an outlet where they are given out.