K College to split Kent campuses after review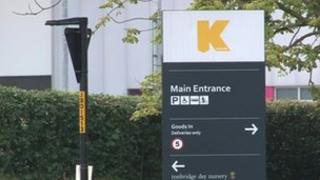 A college with £16m of debt which has five campuses in Kent is to be broken up after an independent review.
K College was formed when West Kent and South Kent colleges were merged in 2010. It employs more than 1,100 staff.
About 15,000 study at the college's campuses in Tonbridge, Tunbridge Wells, Ashford, Folkestone and Dover.
Phil Frier, the acting principal, said K College was likely to be split into two or three parts which could be taken over by other colleges.
He said: "The initial merger was flawed. It quite clearly hasn't worked in financial terms, although it has worked in terms of quality.
"I think there's a better chance this time of getting this right."
Damian Collins, Conservative MP for Folkestone and Hythe, said: "It had problems from the outset and those problems weren't resolved."
He said other education providers should be allowed to compete to run the individual colleges.
Lynn Beaumont, of the Save K College Campaign, said it needed to attract more local students to its campuses and offer more courses.
"If it's broken up we can concentrate on what local people want, and what local employers need," she said.