Kent parents fined most for child school absence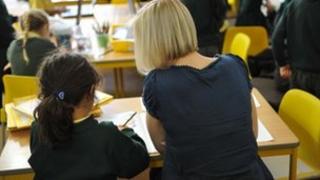 More parents have been fined for truancy in Kent than anywhere else in the country.
Government figures show Kent County Council issued 3,455 fines from September 2011 to August 2012.
If a pupil is absent for 15% of the school year parents can be fined £60 per day at the request of the school.
Gary Cooke, deputy cabinet member for education at the council, said most fixed penalty fines were for people who had taken their child away on holiday.
Mr Cooke said there was a clear correlation between school attendance and attainment.
"Once attendance dips below 95% the child's attainment really starts to drop away," he said.
"What we're talking about here is children who are more often than not missing one or two days of school every week."
'Slapping a fine'
Suzie Hayman, from the charity Family Lives, said she was concerned that so many parents are being fined.
"I think slapping a fine on a parent doesn't necessarily get to the root of the problem and doesn't necessarily do anything about it," she said.
The schools write to parents before any fines are issued, however, in the case of absence because of a holiday, the fine can be issued without a letter.
Brian Lightman, from the Association of School and College Leaders, said it was down to the school [leaders] as to whether they implements fines.
"What appears to be happening is that they are trying to make sure they are using the best possible methods to ensure good attendance," he said.
"But it is not something that is applied in a way without looking at the individual case."