Dartford paralysed biker Dan Edwards becomes gym trainer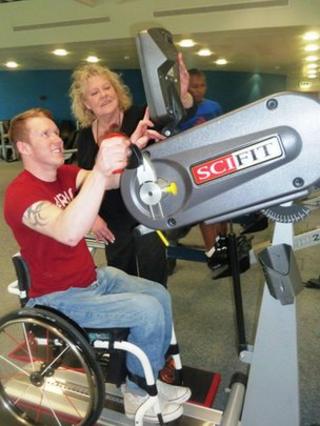 A former electrician paralysed in a motorcycle accident at the age of 21 has begun a new career as a fitness instructor at a gym in Kent.
Daniel Edwards, 25, from Dartford, was in a coma for a month after the crash four years ago. He now has no feeling below his ribcage.
After learning to use a wheelchair, he began volunteering as a worker with charities for disabled people.
He trained as an instructor with spinal injury charity Aspire and YMCAfit.
Mr Edwards, who works at Strood Leisure Centre, came off his bike while he was working for the Royal London Hospital in Whitechapel.
"I can't remember much about a month or so - then I woke up in the hospital where I was working, which was a bit ironic and strange," he said.
"My workmates used to come up and give me breakfast and all sorts of stuff."
He was sent for rehabilitation at Stoke Mandeville Hospital in Buckinghamshire.
"I can't actually remember anyone saying to me, 'Dan you are going to be in a wheelchair for the rest of your life'," he said.
"It was a very slow, gradual process so I adapted and it didn't hit me so hard - I just got on with it.
"It's the way it is and I can't change it so I would rather make the best of what I have got."
'Love the gym'
Mr Edwards began volunteering after returning home and finding he missed the structure of work, then became a wheelchair sports trainer and wheelchair skills trainer.
He is now one of 37 wheelchair users who have qualified with the help of Aspire and YMCAfit to be fitness instructors for both able bodied and disabled people.
"I just love being around people now," he said.
"I'm surprised I didn't do this from the start, considering how much I used to love the gym.
"Seeing the progress of the people I train and they have come on is definitely a good feeling - especially one lady with MS.
"She is amazing - she is walking a lot more and becoming a bit more independent."
Aspire has recently received funding from Sport England to train more people with disabilities to become fitness instructors through its free InstructAbility programme.
"They work as instructors but also engage other people with disabilities," said project manager Hilary Farmiloe.
"We recognise that they can be such brilliant role models for other people, who can find the gym an intimidating place."
The next course in Kent, which has vacancies, begins at Maidstone YMCA in May.