Kent County Council's £4.5m spend on consultants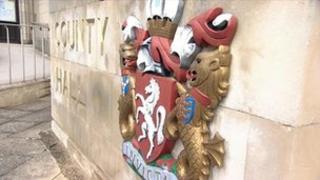 A Kent council is facing criticism after spending more than £4.5 million on consultants in a year.
Kent County Council spent the equivalent of more than £370,000 per month last year.
Among those being employed by the council was a performance coach training company, which was paid more than £65,000.
The Conservative-run council said that with fewer staff, some services needed to be bought in.
Paul Carter, leader of the council, said: "The procurement of external consultants include Legionella and asbestos surveys, the selling of buildings and legal advice for children services on child protection."
All councils are required by law to give details of expenditure for items of more than £500 each month.
Malcolm McKay, the Labour councillor for Shepway South, said: "There will always be a case for employing the odd consultant, but £4.5 million last year, and on one project £5.8 million in 2013 planned, it's absurd."
Concern has also been raised that consultants writing the reports should not then go on to win the contracts to implement the recommendations.
The Liberal Democrats said they would ensure the tendering process at the council was held in public.
Trudy Dean, Lib Dem councillor for Malling Central, said: "The consultants' reports [would] always be published in order that members of the public, and indeed the county council's own staff, can give their views on it.
"Otherwise you'll never know that you're getting good value."