Kent youth PCC Paris Brown investigated over tweets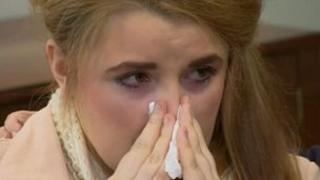 Comments posted on Twitter by Britain's first youth police and crime commissioner are being investigated for possible criminal offences.
Paris Brown, 17, posted what could have been considered racist and anti-gay tweets from the ages of 14 to 16.
She was appointed to the £15,000-a-year post last week by Kent PCC Ann Barnes, who said she would stand by her.
Kent Police said it was investigating the circumstances to determine whether any offences had been committed.
The force said it had received on Monday a number of complaints about statements posted on social media.
'Intense scrutiny'
Earlier, the teenager was urged to resign from the post.
Two Kent MPs - Laura Sandys and Damian Collins - said Paris should step down.
Ms Sandys, the South Thanet Conservative MP, said on Twitter: "Paris Brown should step down as youth crime Tsar for Kent... Gimmicks always backfire."
Mr Collins, the Conservative MP for Folkestone and Hythe, said he did not think the role should have been created in the first place, and called on Ms Barnes to admit that it had been "a mistake".
"I feel sorry for Paris Brown to be put in this position where there is such a high level of scrutiny about what she has said.
"She is going to be under constant pressure to explain what she meant and it's best that this young person should rebuild her life away from intense media scrutiny," Mr Collins said.
Labour's home affairs select committee chairman Keith Vaz said he believed her views were "incompatible with holding office but at the end of the day it is a matter for the police and crime commissioner to decide".
The teenager, from Sheerness, made a tearful apology for the tweets after the Mail on Sunday reported she had boasted about her sex life, drug taking and drinking on her account @vilulabelle on the social networking website.
She said: "I deeply apologise for any offence caused by my use of inappropriate language and for any inference of inappropriate views.
"I am not homophobic, racist or violent and am against the taking of drugs.
"If I'm guilty of anything it's showing off and wildly exaggerating on Twitter and I am very ashamed of myself."
'Confident woman'
The Twitter page has since been removed.
Ms Barnes, 67, who is paying £5,000 of Paris's salary from her own pay, said her tweets or Facebook page were not vetted when she was offered the job.
"Perhaps that is a lesson for the future," she said.
"We went through a perfectly normal recruitment process. We had her vetted by the force and nobody normally looks through anybody's Twitter feed."
Ms Barnes added: "A lot of young people use them and say the most horrible things.
"They don't even think about what they are saying and I think this is what's happened with Paris."
She said the teenager was one of 164 applicants for the job and was the best one and a "confident and articulate woman".
Paris, who is currently an apprentice at Swale Borough Council, is due to begin the one-year PCC post in July or August.