Kent sapper Mark Smith 'killed by 29-year-old shell'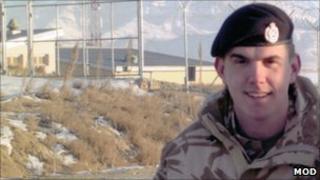 A shell that hit an army compound in Afghanistan killing a Kent soldier in a so-called friendly fire incident was manufactured 29 years earlier, an inquest has heard.
Sapper Mark Antony Smith, 26, died after the shell, meant to distract the Taliban, fell short of its target.
The inquest in Gravesend heard the shell had been manufactured in 1981.
The shell may have been stored at the army base for up to four years, the hearing was told.
Capt Alex Bidulph, who was present when the guns were fired, said he was surprised at the age of the shell.
He said: "I don't think it is by any means ideal. I don't know how long you can keep ammunition. It seems a surprising amount of time."
Warrant Officer class 2 Mike Brazier, who worked with Capt Bidulph, said the propellants, which are attached to shells, could have degraded with age and made it fall short.
'Highly unusual'
The inquest heard that 136 shells were fired on 26 July 2010 in the Sangin area of Helmand but two fell short of their target, hitting two separate army compounds.
The smoke shells, which cover the surrounding area with smoke, were used to help troops travel between compounds.
In the first incident, the shell fell more than 1,500ft (450m) from its target but no-one was injured. The second shell fell 866ft (264m) from its target and killed Sapper Smith, from Swanley, and injured two others.
Bombardier Gareth Leyland, who had been advising the mission's commanding officer, said it was highly unusual and he had never seen two shells fall so short of their target in eight years.
Sapper Smith served with 36 Engineer Regiment, based in Maidstone.
The inquest is due to close on Thursday.