Complaint about Ramsgate seafront developer investigated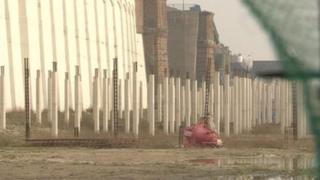 A complaint about marketing claims made by a firm redeveloping a Kent seafront site is being investigated by the Advertising Standards Authority (ASA).
Ramsgate's former Pleasurama site has been derelict for 10 years despite a plan by SFP Ventures UK to build flats.
The company says on its website that it has been involved in similar developments, which is disputed by local campaigners opposed to the plans.
SFP Ventures has so far not commented on the matter.
However, Terence Painter, of the appointed selling agent, Terence Painter Properties, said the complaint had been passed to the company, which was "dealing directly" with the ASA.
Council debate
The complaint refers to a claim by SFP Ventures that the firm has "experience in mixed schemes in both the UK and overseas".
The ASA said it would publish its decision within the next few weeks.
Meanwhile, Thanet District Council is to hold a full cabinet debate on 18 April on whether to sell the freehold of the former Pleasurama site to SFP Ventures.
It follows a petition signed by more than 1,000 people expressing dissatisfaction with the way the development has been dealt with.
Signatories have called on the council to dismiss the current developer on the grounds that it has "lost public trust and confidence and this proposal will not achieve the stated aim of regenerating the Ramsgate seafront".
The company has been given until 22 May by the council to prove that it has the money to complete the project.