Network of World War I trenches discovered on Hoo Peninsula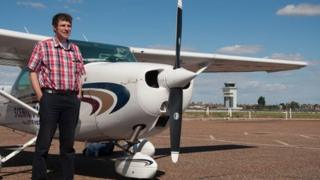 An entire network of World War I trenches has been discovered on the Hoo Peninsula in Kent.
Invisible from the ground, they were identified through aerial images of the area next to the former Chattenden Barracks.
Historian Martin Brown said the find was "very important".
He said some features of the trenches, which were used for experimentation and soldier training, were exactly the same as those seen in Belgium.
The discovery has led historians to rethink the training and preparation soldiers received before being sent to the front.
The full story is to be told in a BBC One programme on Friday.
It sees archaeologist Ben Robinson fly along the River Thames to discover a part of military history that was lost in just a few generations.
"What's fascinating is that the aerial photographs have illuminated part of our history which was almost forgotten," Mr Robinson said.
"They weren't just practising trench building at Chattenden, they were experimenting, they were trying to create new ways to keep the soldiers as safe as possible, as effective as possible."
'Top secret'
The Hoo Peninsula was seen as a forgotten backwater, but aerial archaeology has established it was at the centre of the development of military technology.
"Much of the work done here was top secret and very few records were kept," Mr Robinson said.
"Experiments in trench design, airship construction and explosives all took place here and they had a profound effect on the course of WWI."
Much of the area's history is being recorded from the air before it is destroyed by coastal erosion and development.
The trenches are just one of the features revealed by the first full aerial survey of the area by English Heritage.
The world's first Brennan torpedo launch point has been discovered at Cliffe Fort, and Mr Robinson also identifies a new site with the help of aerial photos.
The previously unidentified buildings were part of a complex where the Royal Navy designed, built and tested their airships.
A small collection of buildings that lay in obscurity for decades is also identified as a World War I anti-aircraft battery - Britain's first purpose built anti-aircraft gun emplacement.
The Flying Archaeologist - The Thames' Secret War is broadcast on Friday 19 April at 19:30 BST on BBC One South East. The series will be broadcast nationwide from Monday 29 April at 20.30 BST on BBC Four.