TfL's takeover proposal for Kent trains 'unacceptable'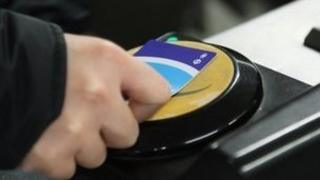 Plans for some of Kent's rail services to be taken over by Transport for London (TfL) are unacceptable, Kent County Council has told the government.
The operator wants to run mainline services to Dartford and Dunton Green, near Sevenoaks, and said commuters would be able to use Oyster cards.
The council said there was not enough capacity to run additional services and it was "firmly opposed" to the plan.
TfL said it would mean more capacity and more frequent off-peak services.
Gareth Powell, director of strategy and service development, said: "The success of the London Overground management contract shows what can be done and how Kent commuters and local users would benefit from our proposals.
"We have delivered better train services, refurbished stations and, as a result, [delivered] much higher passenger satisfaction levels, and we have made clear that under our plans, fares, stopping patterns and frequencies of longer-distance services would not be affected."
'Totally unacceptable'
In a letter to the transport minister seen by BBC South East, the Conservative leader of Kent County Council (KCC) Paul Carter said a report the authority had commissioned from independent consultants clearly stated that train paths to and from London for Kent travellers were "already fully utilised".
"Without increased line capacity, it would be simply impossible to increase the frequency of the proposed Metro services without detriment to Kent commuter services.
"For this reason, Kent County Council remains firmly opposed to the TfL proposal," he said.
The letter continued: "Apart from lengthening existing train services from 10 cars to 12 cars, any further increase could only be achieved by re-allocating paths from Kent services to Tfl Metro services.
"This would be totally unacceptable."
The council's comments have been supported by the Liberal Democrats, who said control was needed over the county's trains.
"I think we've got to be very, very careful about how we deal with trains in Kent," Councillor Ian Chittenden said.
'Good track record'
"We need to have some control over our trains... I think if they were being run by an outside source, other than Southeastern, I think this would create difficulties in communication," he said.
The council's Labour group leader, Gordon Cowan, said TfL's plans could be good for commuters.
"You have to look at all ideas and the most important thing is a service which provides Kent residents with a first-class service that they pay a huge amount for," he said.
"If that means TfL, which has a very good track record, coming in and providing services which make it better for Kent residents, that can only be good."
His views were echoed by both UKIP and the Green Party.
UKIP spokesman Mark Croucher said "anything that made things easier" for commuters would be welcomed, while Green Party spokesman Stuart Jeffery said TfL's plan could improve services across the county.