Medway needs new nursery places for 1,000 two-year-olds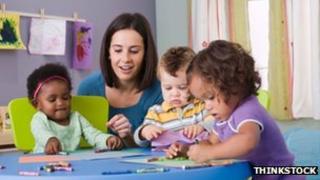 About 1,000 new nursery places are to be provided in Medway to meet a government pledge to provide free places to disadvantaged two-year-olds.
Medway Council said about 40% of two-year-olds in the area would be eligible for free places in September 2014.
Deputy Prime Minister Nick Clegg announced last year the coalition would create the care for the poorest two-fifths of households in England.
North Gillingham, Twydall and central Chatham will get the most places.
The council said a small number of new nurseries would be developed to complement existing pre-schools in the three communities.
'Make real difference'
About 50 pre-schools across Medway will also be expanded to provide the additional places.
In total, about 1,400 children will have free nursery places by the September 2014 deadline.
"Low income will no longer act as a barrier to parents wishing to get their children into nursery," said Councillor Les Wicks, who has responsibility for children's services.
"We are really pleased - to have an exciting opportunity like this make a real difference to families who would otherwise struggle.
"Parents can rest assured that everything possible is being done to create additional places to meet growing demand."
Medway has been allocated government funding of £560,659 to provide the places.