Missing soldier: Search for Josh Thomas focuses on river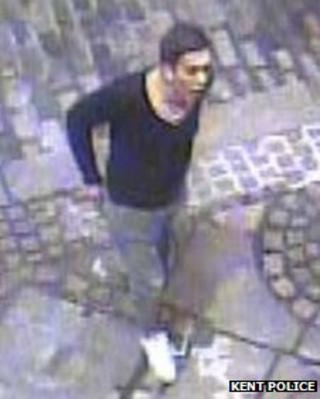 Police investigating the disappearance of a Welsh soldier in Kent say they have narrowed their focus to a road which leads to the River Medway.
Josh Thomas, 18, was last seen on CCTV in Rochester at 01:00 BST on 10 April, after spending the night with friends at the City Wall pub.
His father, Gary, who travelled to Kent to help police, has said he feared his son may have got into the water.
Detectives said they were now focusing on the area around Gas House Road.
Det Chief Insp John Coull said the soldier, who was based at Brompton Barracks in Dock Road, Gillingham, was in a drunken state in an area close to the river when he was last seen.
"We haven't had any proof of life, we haven't had any usage of his bank cards or his telephone so we are fearing the worst, but hoping for the best," he said on Thursday.
The final CCTV sighting of the missing man was on a traffic island in the middle of the A2 outside The Crown pub.
The driver of a black car seen to have stopped and talked to him has now come forward and provided police with more information.
Officers have renewed their appeal to two BMX riders seen in Corporation Street minutes after the last sighting to come forward.
"I am appealing to those two people who were in that area shortly after 01:00 to let us know if you saw Josh and where," said Det Sgt Rik Spicer.
"We just want to learn of Josh's last movements and you may hold vital information on this."