Paris Brown: Kent Tweet row girl will not be prosecuted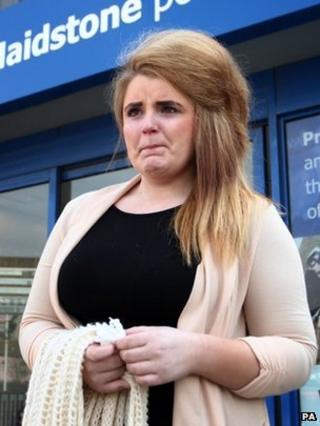 The former Kent youth police and crime commissioner will not face prosecution over comments she made on Twitter, police have said.
Paris Brown, 17, who quit the £15,000-a-year post on 9 April, was interviewed under caution on 14 April over comments she posted before her appointment.
Kent Police said it did not believe the comments, in context, were grossly offensive on an objective assessment.
Her lawyers claimed that the investigation was "disproportionate".
Kent Police received more than 50 complaints from members of the public about the online posts, which could be considered racist and homophobic.
In a statement, the force said: "We have spoken to the CPS about our findings and given them our view that this case does not pass the evidential threshold for prosecution.
"We will make no recommendations to them for charges and will take no further police action having discharged our duty to investigate."
The statement said that while some language used by Miss Brown was offensive, particularly derogatory comments about particular social groups, it did not believe they were grossly offensive.
Miss Brown was appointed to the youth post on 3 April, when she was still 16, by Kent Police and Crime Commissioner Ann Barnes to represent young people across the county.
The Mail on Sunday later reported Ms Brown had boasted about her sex life, drug-taking and drinking on her Twitter account and had also posted violent, racist and anti-gay comments. The account has since been removed.
Miss Brown's lawyers, Olswang, complained about the investigation in a letter to the Kent Chief Constable Ian Learmonth.
The letter said they were "very concerned" and that the nature of the investigation was "wholly disproportionate and unjustified having regard to the Twitter material itself and the broader circumstances of the case".
Kent Police said it disagreed with Oslwang's interpretation of the investigation and that it was duty-bound in the event of an allegation of criminal activity to undertake an investigation.
Lawyer Dan Tench from Olswang described the outcome "inevitable, given that it was obvious that no criminal offence was committed".
He said in a statement: "Paris Brown is a 17-year-old who has resigned from her role and apologised for online comments she herself described as inappropriate.
"Paris and her family are pleased this matter has been brought to a close. She has had a difficult time recently, in part due to the media and inappropriate police scrutiny. She is glad to put this behind her and move on."