Complaint as Kent Police release 'caught intruder'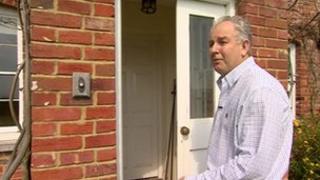 An estate agent who caught a man trying to get into his house has complained to Kent Police after no action was taken.
Tim Ferris, from Bearsted, near Maidstone, trapped the man in his porch and said he dialled 999 three times.
He said: "We've got somebody who was actually caught red-handed and yet they were released. It seems incredible."
Kent Police confirmed a man was arrested at the scene but released without charge. The force said it was reviewing the case.
Mr Ferris said he woke in the early hours to hear the dog barking and went downstairs to see the front door handle shaking, with someone trying to get in.
'Apparently drunk'
He said: "I came round the back of the house as fast as I could, looked in the porch, and there he was. And I thought it was probably a good idea to keep him there."
Mr Ferris said the man was arrested on suspicion of attempted burglary but the next day he heard he had been released because he was apparently drunk and had gone to the wrong house.
In a statement, Kent Police said: "Following a complaint, we are currently carrying out a full review of the incident.
"We will be working with Mr Ferris to resolve his dissatisfaction with the service he received."
Kent police and crime commissioner Ann Barnes said: "It may well be that Mr Ferris is perfectly accurate in his description. There may be a reason. I really don't know. But I will know and I will get behind it."