Kent Police 'correct to release Bearsted intruder'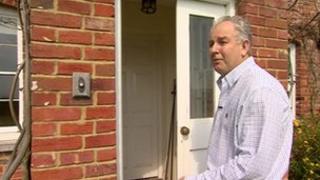 Kent Police were right to release a man who was arrested after trying to get into an estate agent's house in Bearsted, the force has said.
It follows a complaint made to the force by homeowner Tim Ferris that he "caught an intruder red-handed", but officers let him go.
Police said a review found they were correct in their handling of the case.
The force said the man had been drunk and thought he was trying to get into a friend's house where he was staying.
'Reasonable account'
A statement from the force said the officers called to the address in Thurnham Lane arrested and interviewed the man.
It said: "[He] gave a reasonable account of his actions, which were that he was inebriated and believed he was entering his home address, although he had been some miles away from where he lived."
The statement said a review of the incident concluded Kent Police were correct in both the handling and outcome of the incident, but Mr Ferris had not been kept properly informed of progress.
The statement said: "Kent Police will be working with Mr Ferris to resolve his dissatisfaction with the service he received."
Mr Ferris trapped the man in his porch after being woken in the early hours.
He had woken to hear the dog barking, and went downstairs to see the front door handle shaking, with someone trying to get in.
The homeowner went round to the back of house, saw the man in the porch and shut him in there.