University of Kent team to run for Canterbury hospice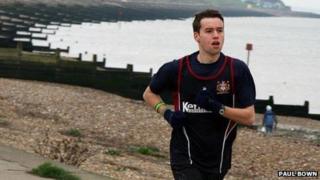 A group of 10 members of a Kent university running club are preparing to run 215 miles for charity.
The athletes from the University of Kent Athletics and Cross Country Club are in training to run the coast-to-coast route, in July.
Paul Bown, who is organising the run, said: "We wanted to do something really big for a local charity."
The runners are raising money for the Pilgrims Hospice in Canterbury and the Breast Cancer Campaign.
The run follows the Trans-Pennine Trail from Hornsea on the east coast to Southport on the west.
Four members of the team will run the complete distance over 11 days, with one rest day.
Mr Bown said: "I hope we can do an annual challenge for the hospice, and build a relationship between the charity and the club."
He said the aim was to just compete the course and the team was not aiming for a fast time.
As a warm-up fundraiser, the athletes will be doing a 24-hour relay in June, with each team member running for at least three hours.