Tonbridge travel agent targeted by red-wigged robber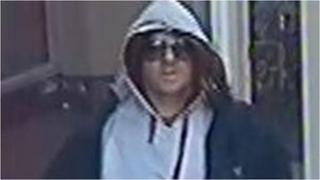 A man wearing a red wig and said to be armed threatened staff during a raid at a travel agent in Tonbridge, Kent Police said.
The man, who also had make-up and dark glasses on, went into the Thomson First Choice travel shop on Tonbridge High Street at 09:15 BST.
Four members of staff and four customers were in the shop at the time.
Police have released a CCTV image of a man they would like to speak to in connection with the robbery.
A female member of staff was threatened with what appeared to be a handgun, police said.
The robber escaped with cash a few minutes later and was seen running towards Angel Walk and Angel Lane,
Police said they believed he may have had a getaway car waiting for him.
The thief was described as being in his 50s, of athletic build and about 5ft 9in tall.
He was wearing a grey or white hooded top, black jeans, a dark-coloured jacket and gloves.