Kent woman Suzy Shearing survives Texas tornado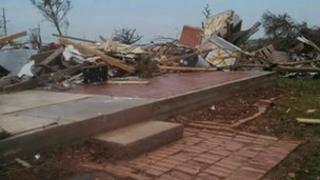 A woman has escaped with her life after a tornado hit her house in Texas while she sheltered in the bathroom.
Suzy Shearing, who moved from Kent to the US in 2010, suffered a broken arm, puncture wounds to her back, and cuts to her leg and foot in 200mph winds.
Ms Shearing said the tornado left her sitting on the edge of the rubble with nothing left of her Granbury home.
She said the one-storey house was flattened, her car was destroyed and her pet cat was killed.
As the tornado approached, she called her mother, who also lives in Granbury.
Her mother told her to go in the bathroom - a central room in the house with no windows - and not to try to rescue her pet.
'Ceiling flew off'
Ms Shearing first sat between the bathroom door and sink, watching the weather worsen.
"All the trees were swirling round, the sky was yellow, and then I heard a tree smash through the bedroom window," she said.
She said she tried to call her cat after he went flying through the house, but he did not come.
"Then the lounge window smashed in, at which point I closed the bathroom door. Next thing I knew the bathroom door flew off. The ceiling flew off. I could see everything flying over my head, swirling around."
Ms Shearing felt "things smashing" into her back and realised that the walls had gone.
The Hilton Hotel worker said: "My glasses flew off. My phone, I was on the phone at the time screaming, my phone flew out of my hand.
"I had a mouthful of dirt, dirt within my eyes, up my nose, so I closed my eyes, closed my mouth."
'Absolutely levelled'
Ms Shearing sais she did not move from the bathroom but ended up on the bedroom floor.
She said when the rain started lashing and she saw electric cables overhead, she knew she had to get out.
Eventually, Ms Shearing saw a neighbour who managed to call for help.
Six people died in the tornado including two of her neighbours, she said.
She said: "I cannot believe I am alive. No-one can believe it
"There is nothing left of the house, it's absolutely levelled, totalled.
"There is nothing, not a piece of furniture left there at all."