Shamed Ashford Borough Council revamps waste service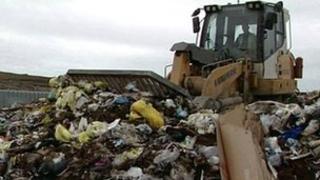 A Kent council is to bring in new recycling collections, months after being named as having the worst rates in the country.
Last November, Ashford Borough Council was revealed as being the worst place in England for recycling for the third consecutive year.
Ashford had recycled 14% of household waste, compared with a national average of 43%, government figures showed.
New collection services were now just weeks away, the council said.
Roadshows being held
The new service, which starts on 8 July, includes weekly food waste collections and fortnightly recycling and refuse collections.
Information is being sent to residents by post and has been put on the council's website, and roadshows are being held around the borough.
The council said it entered into a new contract with Biffa in April to increase recycling collections across the borough.
More items will be able to be recycled, including plastics, cardboard and food and drink cartons, the council said.
It is hoped the new services could help boost recycling rates from 14% to more than 60% by 2014-15, the authority said.