Kent council to explore other options for former Pleasurama site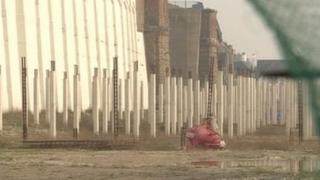 Councillors in Kent have agreed to explore other options for the former Pleasurama site in Ramsgate after plans to develop it failed to materialise.
The site has been derelict for 10 years, despite a proposal by SFP Ventures UK to build flats and a hotel.
The company was given until 22 May to prove it had put finances in place to build the development.
Thanet councillors said they could not wait any longer for it to prove it had the funds at a meeting on Wednesday.
SFP Ventures, which took control of the former theme park site a decade ago, owns the lease on the site.
'Best way forward'
However, it had said it needed the freehold - which is owned by Thanet District Council - and £15m to continue building a hotel and flats.
Councillor Alan Poole, who is overseeing the project, said the development agreement attached to the lease specified that it should be completed by 2014.
"We want this development to go ahead, and we want it built.
"We gave SFP Ventures four months to sort out the finance.
"We are still talking to SFP Ventures and we are hopeful that we can come to an agreement."
Mr Poole added: "We're at the stage now where we have to look at other options.
"The best way forward now is to get building, to get this development sorted out."
'Lost public trust'
However, SFP spokesman Terence Painter said the developer had given the council £1.6m, spent "a considerable amount of money" on the site, and supplied the information regarding its finance.
"The council need to protect their position, and the funder has to protect his position.
"We're at a stage now where it's very critical that these issues are resolved between the two parties.
"Once they're resolved, both parties are very keen to get it started."
Mr Painter added: "We're ready to go."
A petition expressing dissatisfaction with the way the development has been dealt with was signed by more than 1,000 people.
Signatories called on the council to dismiss the current developer on the grounds that it had "lost public trust and confidence and this proposal will not achieve the stated aim of regenerating the Ramsgate seafront".