BBC Radio Kent debate on new Thames river crossing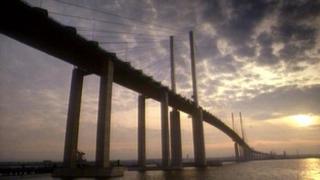 BBC Radio Kent has hosted a debate on plans for a new Thames river crossing between Kent and Essex.
The government has said a new Lower Thames road crossing, costing up to £5bn, is necessary to tackle congestion.
Three locations have been put forward as possible sites:
The site of the existing A282 Dartford to Thurrock crossing
Connecting the A2 at Swanscombe in Kent with the A1089 in Essex
Connecting the M2 in Kent with the A13 and the M25 in Essex between junctions 29 and 30
Variant to option three would also widen the A229 in Kent between the M2 and M20
A panel of guests debated and took questions from listeners at the Hilton Dartford Bridge Hotel at 18.00 BST on 8 July.
BBC Radio Kent also wants to know what you think about the plans for the crossing. Is it needed and if so where should it go?
Panellists
David Burch, Essex Chambers of Commerce
Paul Carter, Conservative Leader of Kent County Council
Natalie Chapman, the Freight Transport Association
John Kent, Labour Leader of Thurrock Borough Council
Richard Knox-Johnston, CPRE Protect Kent
Mike Stephens, Institution of Civil Engineers