'More time' for developers of Ramsgate's Pleasurama site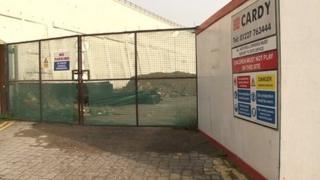 The developer of the former Pleasurama site in Ramsgate is to be given more time by Thanet District Council to find a way to fund the deal.
The site, now Royal Sands, has been described as one of the most important regeneration projects in east Kent but has been derelict for 10 years.
SFP Ventures UK had until the middle of May to prove it could finance the project but failed to do so.
The council said it was now seeking to find a deal acceptable to both sides.
It follows a meeting last week at which councillors agreed to explore other options.
'Lack of progress'
The freehold of the seafront site is owned by the council, but SFP Ventures owns the lease and plans to build a hotel and flats.
The development agreement attached to the lease specifies that it should be completed by 2014.
Speaking on 30 May, SFP spokesman Terence Painter said the developer was "ready to go" once issues had been resolved between the two parties.
Councillor Alan Poole, who is overseeing the project, said the council was happy to give the developers "a little bit more time" if it was going to come up with finance and start building, but it was "fast running out".
"The cabinet, and the people of Ramsgate, are very frustrated with the lack of progress. We really need to get this development up and running," he said.
"We currently have an agreement with SFP...the banks don't like that agreement.
"So if they don't like the agreement, they won't give the money.
"We are currently in discussions with SFP to see if we can make it easier for the banks to lend the money," Mr Poole added.