Medway Council 'missed Lower Thames road crossing chance'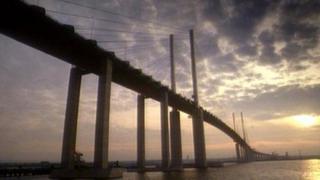 A Kent council has been accused of not doing enough to promote plans for a new Thames road crossing from Southend to the Isle of Grain.
The government is consulting on three options for a new Lower Thames road crossing, costing up to £5bn.
Labour councillor Glyn Griffiths said a Grain-to-Southend crossing could have created jobs.
But Medway Council's ruling Conservatives said the environmental damage would have been too great.
The government has said a new Lower Thames road crossing is necessary to tackle congestion.
'Bizarre point-scoring'
Three locations have been put forward as possible sites for the new crossing:
The site of the existing A282 Dartford to Thurrock crossing
Connecting the A2 at Swanscombe in Kent with the A1089 in Essex
Connecting the M2 in Kent with the A13 and the M25 in Essex between junctions 29 and 30
Variant to option three, to include widening of the A229 in Kent between the M2 and M20
Mr Griffiths said: "The fact that they've now formally narrowed it down to fewer options to west of Medway, just goes to show that good luck to Gravesham, they'll benefit from the jobs that that will accrue.
"All we're likely to get is much of the downside, probably traffic jams when this connection is made between Strood and Bluebell Hill, on the M2.
"That's the legacy we've got simply because the Tories don't recognise and give sufficient importance to the creation of jobs in Medway."
Alan Jarrett, deputy leader of Medway Council, said that for Labour to raise the issue now was "bizarre" and "political point-scoring".
"This is a bit like the Estuary Airport debate - there's an upside to all of these things but there's also a downside," he said.
"If you look at the routes they basically carve a great swathe through the marshes that we've all been so intent on protecting, to eventually link up with the A2 to the west of Medway.
"Bearing in mind we've already embarked on a substantial regeneration in Medway, to us that was a price that wasn't worth paying."