Margate seafront Tesco store approved by the government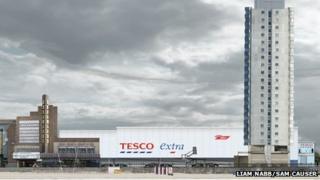 An application for a Tesco superstore on Margate seafront, in Kent, has been approved by the government.
Residents of Arlington House, an 18-storey tower block, fought the plans for the development on their car park.
Landlord Freshwater said the project would pay for the block's renovation.
Local trader Louise Oldfield said campaigners wanted a judicial review of a decision by Thanet council and the government that an environmental assessment was not needed.
She said: "I work with the visitor economy of people coming to Margate to enjoy the seafront and the amazing beaches that we have - as they have done for the past 250 years.
"To find that that has not been understood or any care or attention has been given to that by the secretary of state and the planning inspector is absolutely disgraceful."
'Best possible future'
Local trader Robin Vaughn-Lyons, former chairman of the Margate Town Team, said he feared a lot of smaller businesses could end up closing as a result.
But Philip Robin, town planning consultant for Freshwater, said it had taken a long time to reach an agreement with the council and the company was pleased the government, having considered all the evidence, had come out in their favour.
Thanet council leader Clive Hart said: "From the outset we've been clear that we want to ensure the best possible future for this site.
"With the success of Turner Contemporary, and approval to progress with the exciting plans at Dreamland, unlocking the potential for further regeneration in this part of the town is absolutely key."
He said: "As the final decision for this development was outside of the council's control, our role now will be to get the best possible outcome for the residents of Margate and Thanet and to ensure the site complements and enhances the wider regeneration of the town."