Naked riders pedal through Canterbury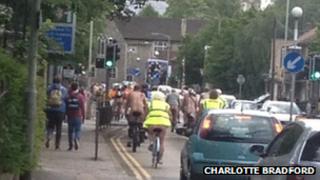 Naked cyclists have pedalled through the streets of Canterbury in the latest leg of the World Naked Bike Ride.
The six-mile (10km) ride was aimed at making cycling safer and a preferred option to cars for short journeys.
Co-organiser Barry Freeman said the participants rode naked to show how vulnerable cyclists were on the road
Last week in Brighton, hundreds of cyclists ignored police advice to "cover intimate areas".
Events also took place in London, Southampton and elsewhere around the world.
In Mexico City, traffic came to a standstill as onlookers stared in amazement.
Mr Freeman said: "One hundred and thirty-two cyclists were killed last year and the most common excuse is, 'I'm sorry, I didn't see him or her', when they're wearing fluorescent jackets.
"Basically, we're saying we're naked, we're vulnerable, we've got no protection, and you see us when we're naked - please see us when we're wearing high visibility clothing."