Manston Airport apologises after show traffic problems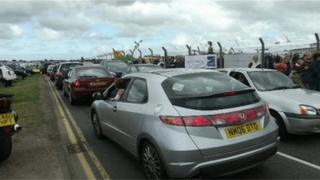 Manston Airport has apologised after thousands of people were stuck in traffic on their way to an air show.
Nine-mile tailbacks on Thanet Way meant journeys to the South East Air Show on Saturday took more than four hours.
It was the first time in 20 years that the Kent airport had hosted the event but many motorists said they had to turn around and return home.
The airport's chief executive said the traffic "was not representative of a normal day at the airport".
In a statement on Sunday, Heritage Events, the show's organisers, apologised to people who experienced long delays and were unable to attend the event.
Organiser Chris Yates said the show proved more popular than had been expected.
In a statement, airport chief executive Charles Buchanan said: "I know that the organisers of the South East Air Show have already committed to dealing with everyone who contacts them, but on behalf of everybody at Manston Airport, I would like to add my apologies for the problems experienced by many visitors to the event.
"We provided the airport to organisers Heritage Events and AS Enterprises as the location for the air show and they undertook the planning, parking, stewarding and on-the-day management of the event.
"The airport's role was limited to managing the movement in and out of the various aircraft by our air traffic controllers and operating the aviation activities."
He claimed the travel experience of visitors to the air show was "in sharp contrast to the day-to-day experience of passengers flying to and from Manston via KLM".
Heritage Events has asked people who were affected to email their views and their experiences.