Chattenden homes on Medway nightingale site rejected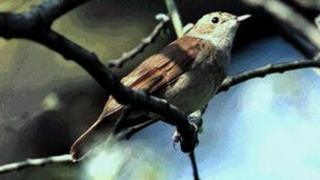 Plans for 5,000 homes on a former military site where a population of nightingales lives have been rejected.
A planning inspector told Medway Council in Kent to withdraw its housing strategy and prepare a new plan after considering plans for Lodge Hill in Chattenden.
The site was this year found to support nightingales and a rare lowland meadow.
Medway Council said £35m invested in the project by the government, council and developer would be written off.
It said the decision would cost the taxpayer £27m, including £2m from the council.
The authority said the planning inspectorate had examined Medway's core strategy and declared it potentially unsound, mainly because the area was a Site of Special Scientific Interest (SSSI), even though an appeal process was ongoing.
Natural England declared the site an SSSI earlier this year.
The council said the development of the site aimed to provide a large proportion of Medway's housing needs and would have created 5,000 jobs.
'Nationally-important site'
It accused the RSPB of waiting until 2012, which it said was 17 years after consultation started, to oppose the scheme because about 70 nightingales were based there during the summer.
The authority also said the nightingale population had decreased and it was awaiting new survey results.
The RSPB told the BBC it did not have access to the site until 2012 because it was Ministry of Defence land.
The charity said the council needed to find alternative sites for housing and said the site had been identified as one of the most important in the country for nightingales.
Conservation director Martin Harper said: "The government's own guidance is perfectly clear: housing shouldn't be proposed for nationally-important wildlife sites before alternatives have been considered."
Medway Council said it had previously explored and consulted on other sites for development but none was seen as suitable as the land at Lodge Hill.
Developer Land Securities has not yet commented.