Sheerness tower block blaze 'was started deliberately'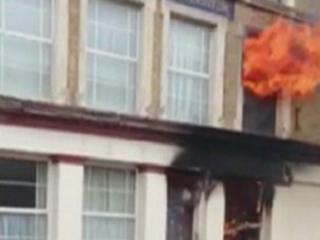 A fire at a block of flats that left two people fighting for their lives was started deliberately, police believe.
Three people were taken to hospital after being trapped in the blazing three-storey building in Richmond Street, Sheerness, on Monday afternoon.
Police said a man and a woman who reportedly jumped from the top floor had life-threatening injuries.
A man who was rescued by firefighters has been allowed home, while neighbours rescued a mother and two children.
Police say they are treating the fire as arson and have appealed for witnesses to contact them, particularly if they know of previous smaller fires in the area.
Other fires
Det Insp Lee Whitehead said: "I am keen to hear from anyone who may have seen anything suspicious, such as someone outside the front of the property, before the fire broke out.
He added: "I would also ask anyone living nearby who has experienced a fire recently that they may not have reported to come forward."
A Kent Police spokeswoman stressed they were not aware of previous fires, but wanted to establish whether there had been earlier minor offences before the attack at the flats.
Gary Standford, from Kent Fire and Rescue Service, said the block was engulfed by fire when crews arrived, at about 15:30 BST.
"They were met by some casualties on the ledge on the first floor," he said. "Two people had already jumped. They immediately got a ladder off the fire engine and pitched that to the third floor and rescued the person."
Facebook appeal
A Kent Police spokeswoman said officers were also told that two had jumped.
Up to 10 people are believed to have been left homeless by the blaze.
Neighbours in the tight-knit community have rallied to help, setting up a Facebook group to supervise donations of toys and property for the families who have lost not only their homes but all their possessions.
One of the organisers wrote: "I don't personally know anyone involved. I just can't imagine what these families are going through.
"I'm sure they will be very pleased to see just how well we have come together and appreciate our support."
Neighbouring properties were evacuated and the road was closed at Invicta Road and Marine Parade.