Manston air show organisers offer free tickets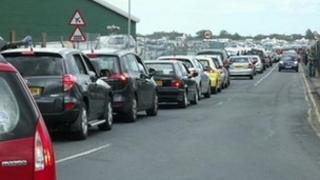 Visitors to an air show who became stuck in traffic on the way to the event have been offered replacement tickets or a refund by organisers.
Nine-mile tailbacks on Thanet Way meant journeys to Kent's South East Air Show on Saturday took more than four hours.
It was the first time in 20 years that the Manston airport had hosted the event but many motorists said they had to turn around and return home.
Heritage Events said they were offering free tickets to two events.
In a statement, the company said "as a gesture of goodwill" it would offer those with unstamped tickets free entrance to both the Combined Ops Show on 17 and 18 August and the Southern Model Airshow on 15 and 16 September.
Alternatively, Heritage Events said it would also offer a refund.
The company said it had been "overwhelmed by the amount of visitors".
The airport's chief executive previously said the traffic "was not representative of a normal day at the airport".
Ticket holders have until the end of July to send their unstamped tickets by registered mail to Heritage Events.