Kent PCC Ann Barnes launches mobile police station fleet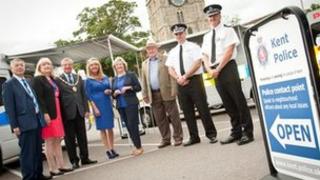 Six mobile police stations have been launched in Kent to boost rural policing across the county.
Police and crime commissioner (PCC) Ann Barnes said the fleet would make 360 visits to 180 locations each month, once it was fully operational.
The mobile stations, called police contact points, will spend about 90 minutes in each location.
The vehicles will be manned by police community support officers (PCSOs), Ms Barnes said.
She said the vans would also visit urban areas where there was a perceived lack of police presence.
'Isolated communities'
Kevin Attwood, a farmer from Doddington, near Sittingbourne, said: "They [mobile police stations] will have merits in that they will be community policing, and they'll be in what can be fairly isolated rural communities and for a number of residents living in those areas they will be a visible police presence periodically.
"Whether that will make any difference to rural crime, I'm far more sceptical.
"We are talking about fairly serious organised crime predominantly - theft which is being carried out in an organised fashion."
Marian FitzGerald, criminology professor at the University of Kent, said: "I think symbolically the idea of the mobile stations and having a presence in rural areas is a good one. Whether they will prove cost-effective remains to be seen. It does need to be monitored whether people are using them."
'Moving with times'
But Ms Barnes said: "They will be used.
"They are there to work in communities. They will go regularly around the county. They'll be going mainly to fairly isolated rural communities, because it was very obvious to me very early on that there are a lot of communities, particularly our rural communities, who feel quite isolated from the police."
She said the PCSOs on the vans would use social networking to interact with the communities.
"They will listen to local people. They'll gather intelligence and of course they'll provide the reassurance that people need," she said.
Kent Police has recently closed front counters in Broadstairs, Hythe, Sandwich, Strood, Tenterden, West Malling and Whitstable.
But Deputy Chief Constable Alan Pughsley said: "It's absolutely not another police station and they're not replacing police stations. They are just another way of contacting the public. We are moving with the times."
The vehicles will operate from Wednesdays to Sundays including daytime, evenings and weekends.
The mobile stations are being phased in, two a month, between July and September.
Locations and times can be seen on the Kent Police website.
Ms Barnes said police already owned the vehicles being used and funding for the PCSOs manning them had been announced earlier in the year, so existing resources were being used to set up the scheme.